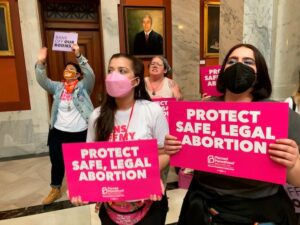 On October 6, three Jewish women filed a lawsuit against the state of Kentucky claiming that the state's current abortion restrictions are vague and violate their religious freedom.1 Kentucky's state legislature passed a series of bills in 2019 that banned abortion from fertilization, only allowing for abortion if the mother's life is in danger. There are no exceptions for rape or incest.2
These laws were allowed to go into effect after the Supreme Court issued its ruling in Dobbs v. Jackson Women's Health Organization (2022). That decision overturned Roe v. Wade (1973) and Planned Parenthood of Southeastern Pennsylvania v. Casey (1992), both of which previously found that access to abortion was a constitutional right. Because of the Dobbs decision, access to and restrictions on abortion are now in the hands of the states.3
The women in the Kentucky lawsuit all argue that the abortion ban violates Jewish law and practices and forces pregnant Jews to conform to another set of religious beliefs. For over a millennium, Jewish scholars have developed answers to questions regarding when life starts, reproductive rights, and abortion. The majority of Jewish denominations teach that a fetus becomes a human life at birth; therefore, a fetus does not have the same rights as a person. They believe that the life and health of the mother (frequently understood to include mental and emotional health) must take precedence over that of the fetus.4
The case claims that Kentucky law forces Jewish women who screen their pregnancies and in vitro fertilization (IVF) embryos for genetic anomalies to violate their religious beliefs by continuing unviable pregnancies. The case also states that families are harmed financially by requiring storage for embryos indefinitely.5
Jessica Kalb, who has struggled with infertility, has nine embryos currently frozen from her previous round of IVF and wants another child. However, the embryos have not been screened to see if they are compatible with life, and under Kentucky law, it is unclear if disposing of incompatible embryos would be illegal. She has decided not to go forward with another pregnancy.
Lisa Sobel's daughter is also a result of IVF, and the Sobel family wants more children. However, she had a very difficult first pregnancy and worries what might happen in the second. "At this point, I'm scared to try and have another child," she said. "If I miscarry, I could bleed out before the doctors and the lawyers could decide whether or not they could treat me or if I needed to be prosecuted, and that's not a risk I'm willing to take for myself or my child or my husband."6
Finally, Sarah Baron claims in the lawsuit that as an Ashkenazi Jew, she has a higher risk of passing on genetic diseases such as Tay-Sachs disease, which is always fatal.7 The suit states that without the option of abortion, nonviable pregnancies cause psychological harm to the mother and cannot be terminated as is expected under Jewish law.8 The case is scheduled to be heard on November 15.
In response, Kentucky Attorney General Daniel Cameron indicated that he would defend the law. "The General Assembly has made it clear that Kentucky will protect unborn life and these laws are an important part of the commonwealth," he said on October 6.9 Cameron is running for governor in 2023 and his platform addresses his support for ending abortion in the state.
Other states' abortion restrictions are also being challenged in court by Jewish communities. In Indiana, Hoosier Jews for Choice are plaintiffs in a case suing the state over its abortion restrictions, and in Florida, a synagogue is taking the issue to court.10 Also in Florida, three rabbis joined a suit that includes a United Church of Christ reverend, a Unitarian Universalist minister, an Episcopal Church priest, and a Buddhist lama in order to challenge the restrictions in the state.11 It is likely that other organizations in states where abortion is restricted will follow.
Discussion Questions
Kentucky law states that human life starts at fertilization. Does it matter if that law is at odds with a person's deeply held religious beliefs? Why or why not?
IVF is a medical intervention that relies on extracting and fertilizing multiple eggs at a time, knowing that not all will be used. What should be done with the unused embryos?
Deeply held religious beliefs have granted individuals and organizations permission to refuse vaccination compliance or to refuse to cover certain types of health care for their employees. How is the Kentucky case similar to or different from those religious arguments?
As always, we encourage you to join the discussion about abortion and religious freedom with your comments or questions below.
Sources