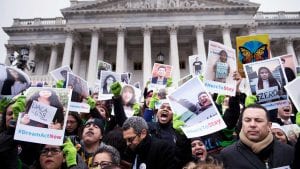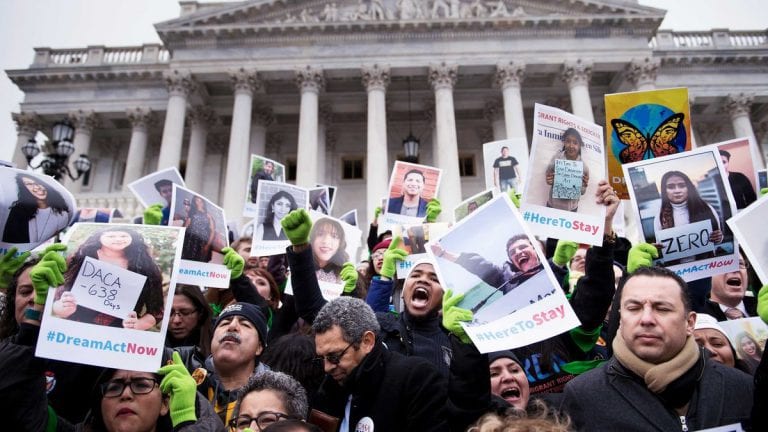 On November 12, 2019, the Supreme Court will hear arguments about the Trump administration's efforts to end the immigration policy known as Deferred Action for Childhood Arrivals (DACA). The status of DACA recipients has been in limbo for over two years amidst administration actions and court injunctions.
What Is DACA?
After Congress failed in its attempts to pass a bill dealing with undocumented immigrant minors,1 then-President Obama created DACA in the run-up to his reelection campaign in 2012.2 The program deferred deportation for undocumented individuals who arrived in "the U.S. before their 16th birthday, were under age 31, had continuously resided in the United States since June 15, 2007,"3 had not committed serious crimes, and met educational or military service requirements.4 Considered a temporary fix awaiting congressional immigration reform, DACA allowed for infinite renewals of two-year deferrals.5
How Did DACA Reach the Supreme Court?
The Trump administration decided not to defend DACA in a possible court case,6 arguing that the Obama administration lacked the authority to establish the policy—a claim that opponents characterized as a misread of the law, open to judicial review.7 These opponents assert that the policy change did not meet federal standards and that the Trump administration violated due process and "the Equal Protection Clause because it was motivated by discriminatory animus."8 Lower courts agreed and left the law temporarily in place.9 After repeated requests, the Supreme Court agreed to weigh in.10
The Supreme Court must decide if courts can review the policy change and if the Department of Homeland Security (DHS) made the change lawfully.11 The administration argues that their agencies have the necessary discretion (so courts cannot intervene) and that their legitimate rationale included doubts about DACA's legality12 absent congressional authorization.13 DHS also claims that DACA encourages further illegal immigration, because it undercuts the "ability to send 'a message that leaves no doubt regarding the clear, consistent and transparent enforcement of the immigration laws.'"14
Where Does DACA Stand Now?
Currently, DHS is not accepting new DACA applications, but it is continuing to process renewals.15 As of June 2019, there were approximately 660,880 active DACA recipients.16
What's Next for DACA?
DACA activists have begun a 230-mile march from New York City to the Supreme Court,17 highlighting the significant personal stakes they want the Court to consider.18 Their allies cite DACA's high polling approval,19 economic benefits,20 and support from an array of large businesses.21 Their opponents argue that the executive order is an executive overreach,22 and they want a legislative compromise that includes increased border security and limits to further immigration.23 President Trump has hinted at a possible deal,24 depending on the Court hearing. The justices' decision will likely come in June 2020.
VIEW: What's on the Supreme Court calendar?
READ: Legal analysis of the DACA case on SCOTUSblog
For further reading on DACA, please see Close Up in Class' Controversial Issue in the News on the subject.
Discussion Questions:
How present are recent immigrants in your school and community?
Do you think the DACA policy encourages other immigrants to enter the United States illegally?
Should DACA limit the number of deferrals that recipients can access? Should recipients be able to achieve lawful permanent resident or citizen status?
Should the fate of DACA be determined on its own, or should it be part of a larger set of immigration reforms? If the latter, what reforms are necessary?
Should a president be able to bypass Congress with an executive order to establish an immigration program like DACA, or is that an overreach (an abuse of power)?
Sources
[4] Ibid.
[8] Ibid.
[14] Ibid.