The Russian Invasion of Ukraine
March 1, 2022 by Katie Chandler
---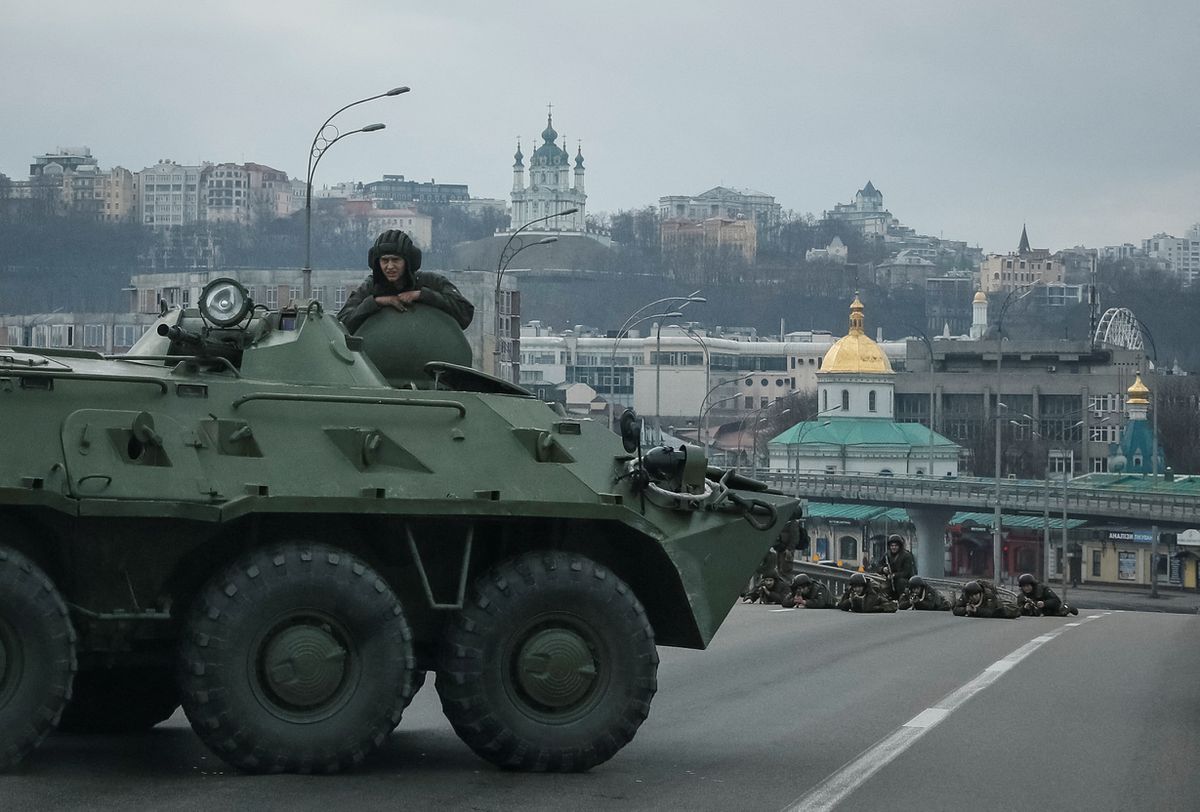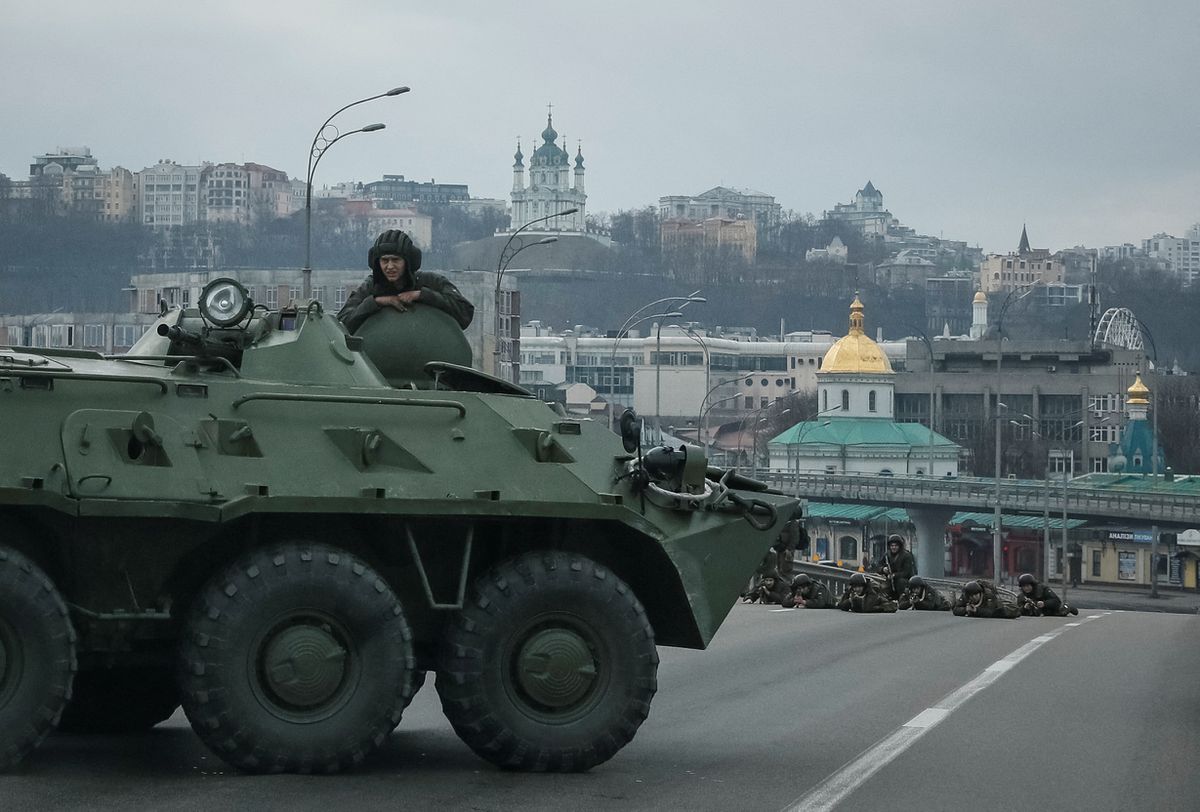 On January 26, we posted about the deteriorating situation in Ukraine. Since then, Russia has invaded Ukraine and surrounded the capital, Kyiv. More than half a million refugees have fled the country and at least 136 civilians, including 13 children, have been killed.1
What Has Happened Since Then?
February 21: The Russian government recognizes the sovereignty of the Ukrainian breakaway regions of Donetsk and Luhansk and sends troops to "keep the peace." Ukraine and its allies declare the troops to be a violation of Ukrainian sovereignty.2
February 24: Russian President Vladimir Putin declares war on Ukraine, and the Russian military invades from the north, east, and south. Ukrainian President Volodymyr Zelenskyy declares martial law and breaks diplomatic relations with Russia.3
February 25: Russian forces reach Kyiv and begin attacking the capital city.4
February 26: The United States, Canada, the United Kingdom, and the European Union (EU) announce they will bar several major Russian banks from the Society for Worldwide Interbank Financial Telecommunications, the global financial messaging system known as SWIFT.
February 27: Putin directs forces to increase the readiness of Russia's nuclear weapons, raising fears that the current conflict could turn into nuclear war.
February 28: Ukrainian and Russian diplomats meet on the border of Ukraine and Belarus. No agreement is made, but both sides agree to continue talks.
March 1: Russian forces surround Kharkiv, Ukraine's second largest city. Video appears to show a missile striking City Hall in the city center.5 Economic sanctions begin to take hold as Visa, Mastercard, Google Pay, Apple Pay, and others block services to sanctioned Russian banks.6
Why Did Russia Invade Ukraine?
After months of claiming that he had no plans to invade Ukraine, Putin's forces attacked several major cities last week. Putin claimed that Russia could not feel "safe, develop, and exist" because of the threat from modern Ukraine, and demanded assurances that it would never join the North Atlantic Treaty Organization (NATO). Putin also falsely accused the Ukrainian government of genocide and called for the "de-Nazification" of Ukraine.7 These claims are part of Putin's well-documented campaign of disinformation.8 Zelenskyy is Jewish and Ukraine's chief rabbi and the Auschwitz Memorial have both rejected Putin's claims.9
It is difficult to know exactly why Putin chose to invade now and what his final aims are, but many foreign policy experts agree that he wants to restore Russia to the superpower status the Soviet Union once enjoyed and topple Zelenksyy's democratically elected government. Putin likely views a democratic Ukraine as an existential threat to his own autocratic leadership in Russia and fears protests for democratic reforms among his own citizens. It is impossible to know if Ukraine is Putin's only target or if he would invade other countries, as he did with Georgia in 2008.10
It is likely that Putin was not expecting such a global response to his invasion. During his 2008 invasion of Georgia, his 2014 invasion of Ukraine and takeover of Crimea, and Russia's bombing of civilians in Syria, sanctions and international condemnation were not as strong as those we see today.11
How Has the United States Responded?
President Joe Biden authorized an additional $350 million in defense aid on February 25, bringing the total U.S. assistance to Ukraine to more than $1 billion in the last 12 months.12 President Biden said the United States will also deploy 7,000 troops to Germany to reinforce NATO after the invasion of Ukraine (which is not a member). President Biden maintains that he will not send U.S. troops to Ukraine, a position he took before the Russian invasion. "That's a world war when Americans and Russians start shooting at one another," he said. Similarly, he has chosen a path of de-escalation in the face of Putin's nuclear threats.13
In addition to providing aid to Ukraine and NATO, the United States and its allies have imposed economic sanctions on Russian leaders and the Russian financial system. President Biden has stated that while he wants to inflict damage on the Russian ruling class, he does not want to impoverish average Russians.14 The sanctions are likely to disrupt international markets as well. Food, energy, and industrial supply chains will be affected, and Americans are likely to see energy and food prices rise.15
How Do Economic Sanctions Work?
Many countries, including the United States, are moving to swiftly isolate Russia's financial system. They are blocking some Russian products from being imported and limiting what types of products can be sold to Russia, with technology products that are not produced in Russia especially targeted.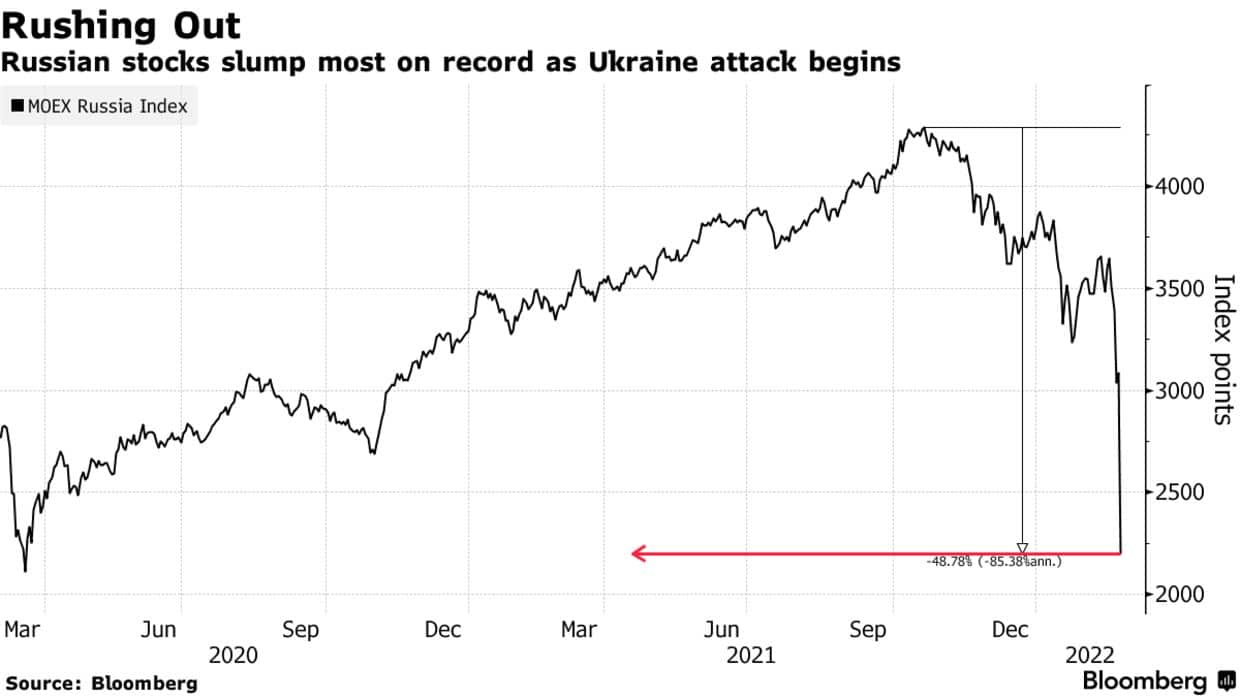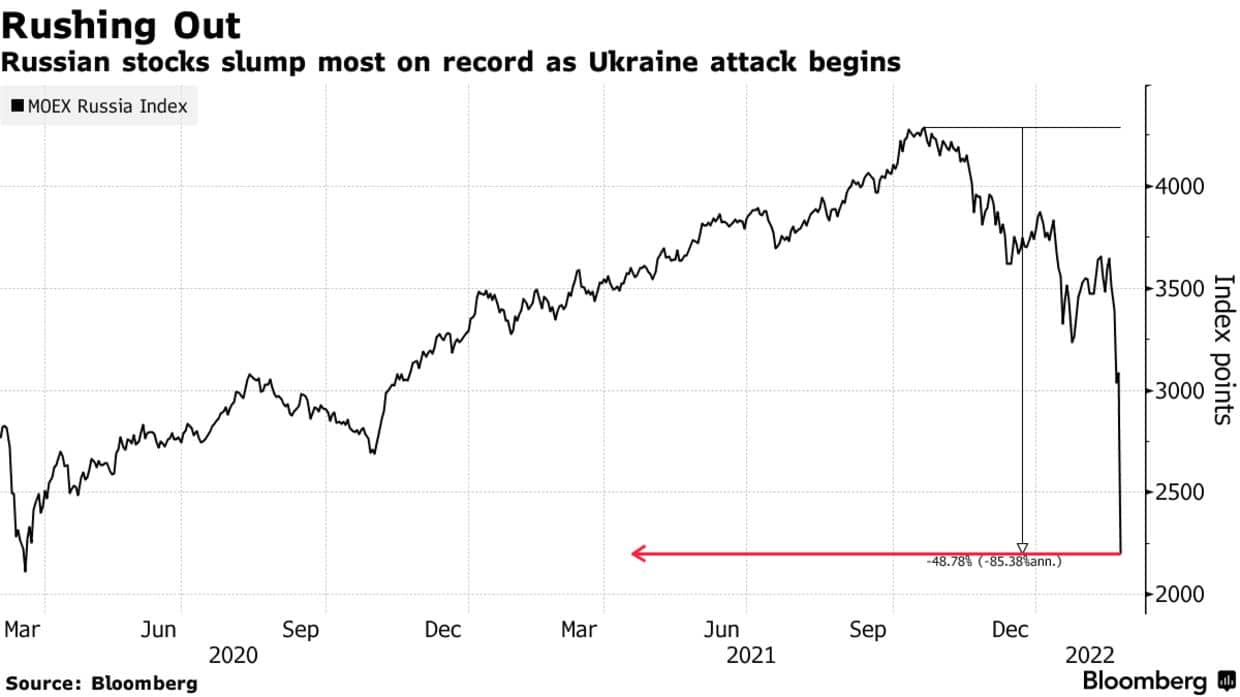 The has caused the Russian ruble to lose as much as 25 percent of its value. Russia's central bank (similar to the Federal Reserve in the United States, which regulates interest rates to help fight inflation and grow the economy) has as much as $643 billion in different banks around the world. Governments are now restricting access to that money so the Russian government cannot soften the impact of the sanctions.16 Inflation in Russia could be as high as 70 percent, and the Russian government shut down the stock exchange on Monday and Tuesday. To further isolate Russian financial institutions, Western countries are removing several Russian banks from SWIFT, a financial messaging network that allows banks to transfer money internationally.17 Economists describe the sanctions as "unprecedented."18
How Are Other Governments and Organizations Responding?
At a rare emergency meeting of the 193-member General Assembly of the United Nations, 110 members signed up to speak about the war. Later this week, the UN will vote on a resolution that demands Russia immediately stop using force and withdraw all troops from Ukraine. The resolution must be passed unanimously.19
The EU, the United Kingdom, and Canada have closed their airspace to all Russian aircraft, including private jets of wealthy Russians.20
Ursula von der Leyen, the president of the European Commission of the EU, said that Ukraine belongs in the EU, after Zelenskyy signed an application for membership.21
Karim A. A. Khan, prosecutor of the International Criminal Court, said he will pursue an investigation into the war in Ukraine, for war crimes and crimes against humanity.22
What Can We Expect in the Coming Days?
While the Russian military has not taken over any of the major cities it has attacked, it is important to remember that it is still early in the conflict. Ukrainian troops and civilians are providing more resistance than the Russian military was likely expecting, but foreign policy experts warn that Russian forces are still coming and seem to be surrounding Kyiv and Kharkiv.23
Russia looks to be using a strategy it found effective in Syria when it was supporting President Bashar al-Assad: bombing civilian centers with long-range precision weapons and taking over cities once civilians flee. In Syria, Russia used missiles to bomb hospitals, schools, and markets, and there are fears that Putin will use a similar strategy against Ukrainian civilians.24
Protests against the Russian invasion have popped up in many cities across the globe, including in Russia. More than 6,435 Russians have been arrested and detained for protesting their government's invasion of Ukraine thus far.25
Discussion Questions
What responsibility does the United States have to defend its allies?
Economic sanctions are likely to be felt by Americans and people around the world, not just by Russians. Do the costs of sanctions outweigh their benefits?
How is America using soft power to influence Russia?
Do you agree with President Biden that sending U.S. troops to Ukraine would create a world war?
Key Terms
Economic sanctions: Penalties against a country (officials or private citizens) either as punishment or an effort to provide disincentives for the targeted policies and actions; sanctions can range from travel bans and export restrictions to trade embargoes and asset seizures26
Sovereignty: The idea that a country controls what happens inside its borders and cannot interfere in what happens elsewhere27
Additional Resources
As always, we encourage you to join the discussion with your comments or questions below!
Sources
[1] Ledur, Julia, et al. "Photos and Videos Show Long Waits, Traffic Jams at Border Crossings as Thousands Try to Leave Ukraine." Washington Post. 27 Feb. 2022. Web. 28 Feb. 2022.
[2] Hopkins, Valerie, and Andrew E. Kramer. "Why It Matters That Russia Just Recognized Donetsk and Luhansk." New York Times. 21 Feb. 2022. Web. 25 Feb. 2022.
[3] Zinets, Natalia, and Aleksandar Vasovic. "Missiles Rain Down Around Ukraine." Reuters. 24 Feb. 2022. Web. 25 Feb. 2022.
[4] Harding, David. "Ukraine President Declares Martial Law Following Russia Invasion." The Independent. 25 Feb. 2022. Web. 28 Feb. 2022.
[5] Schwirtz, Michael. "An Explosion Rocks Kharkiv a Day After Shelling in a Residential Neighborhood." New York Times. 1 Mar. 2022. Web. 1 Mar. 2022.
[6] Picchi, Aimee. "Visa, Mastercard Block Services to Russian Banks Targeted By Sanctions." CBS News. 1 Mar. 2022. Web. 1 Mar. 2022.
[7] Berger, Miriam. "Putin Says He Will 'Denazify' Ukraine. Here's the History Behind That Claim." Washington Post. 24 Feb. 2022. Web. 25 Feb. 2022.
[8] U.S. Department of State, Office of the Spokesperson. "Fact vs. Fiction: Russian Disinformation on Ukraine." 20 Jan. 2022. Web. 28 Feb. 2022.
[9] Kirby, Paul. "Why Is Russia Invading Ukraine and What Does Putin Want?" BBC News. 28 Feb. 2022. Web. 28 Feb. 2022.
[10] Person, Robert, and Michael McFaul. "What Putin Fears Most." Journal of Democracy. National Endowment for Democracy. 22 Feb. 2022. Web. 28 Feb. 2022.
[11] "Timeline: The Events Leading Up to Russia's Invasion of Ukraine." Reuters. 1 Mar. 2022. Web. 1 Mar. 2022.
[12] Jeong, Andrew, et al. "Biden Authorizes $350 Million More in Defense Aid for Ukraine in Response to Russian Invasion." Washington Post. 26 Feb. 2022. Web. 28 Feb. 2022.
[13] Sanger, David E., and William J. Broad. "Putin Declares a Nuclear Alert, and Biden Seeks De-escalation." New York Times. 27 Feb. 2022. Web. 28 Feb. 2022.
[14] Medhani, Aamer, et al. "Biden Hits Russia with Sanctions, Shifts Troops to Germany." Associated Press. 24 Feb. 2022. Web. 28 Feb. 2022.
[15] Rai, Sarakshi, and Sylvan Lane. "Five Ways the Russian Invasion of Ukraine Could Impact the US Economy." The Hill. 28 Feb. 2022. Web. 28 Feb. 2022.
[16] Troianovski, Anton. "The Ruble Crashes, the Stock Market Closes and Russia's Economy Staggers Under Sanctions." New York Times. 28 Feb. 2022. Web. 28 Feb. 2022.
[17] Seth, Shobhit. "How the SWIFT System Works." Investopedia. 28 Feb. 2022. Web. 28 Feb. 2022.
[18] Sorkin, Andrew Ross, et al. "How Economic Warfare is Battering Russia." New York Times. 28 Feb. 2022. Web. 28 Feb. 2022.
[19] Peltz, Jennifer, and Edith M. Lederer. "At Rare UN Session, Russia is Pressed to Stop War in Ukraine." Associated Press. 28 Feb. 2022. Web. 28 Feb. 2022.
[20] Bursztynksy, Jessica. "Many European Countries and Canada Join in Closing Their Airspace to Russian Planes." CNBC. 27 Feb. 2022. Web. 28 Feb. 2022.
[21] Anderson, Emma. "Ukraine Belongs in EU, Commission Chief von der Leyen Says." Politico Europe. 28 Feb. 2022. Web. 28 Feb. 2022.
[22] Perez-Pena, Richard. "The I.C.C. Prosecutor Says He Plans to Investigate Possible War Crimes in Ukraine." New York Times. 28 Feb. 2022. Web. 28 Feb. 2022.
[23] Khurshudyan, Isabelle, et al. "Russian Invasion Escalates as Massive Convoy Threatens Kyiv, Kharkiv 'Surrounded.'" Washington Post. 1 Mar. 2022. Web. 1 Mar. 2022.
[24] Karam, Zeina, et al. "Russia's Syria Intervention Provided Hints for Ukraine War." Associated Press. 1 Mar. 2022. Web. 1 Mar. 2022.
[25] Ives, Mike. "At Least 411 People Are Detained Across Russia As Antiwar Protests Continue." New York Times. 1 Mar. 2022. Web. 1 Mar. 2022.
[26] Masters, Jonathon. "What Are Economic Sanctions?" Council on Foreign Relations. 12 Aug. 2019. Web. 28 Feb. 2022.
[27] "What is Sovereignty?" Council on Foreign Relations. 2022. Web. 28 Feb. 2022.