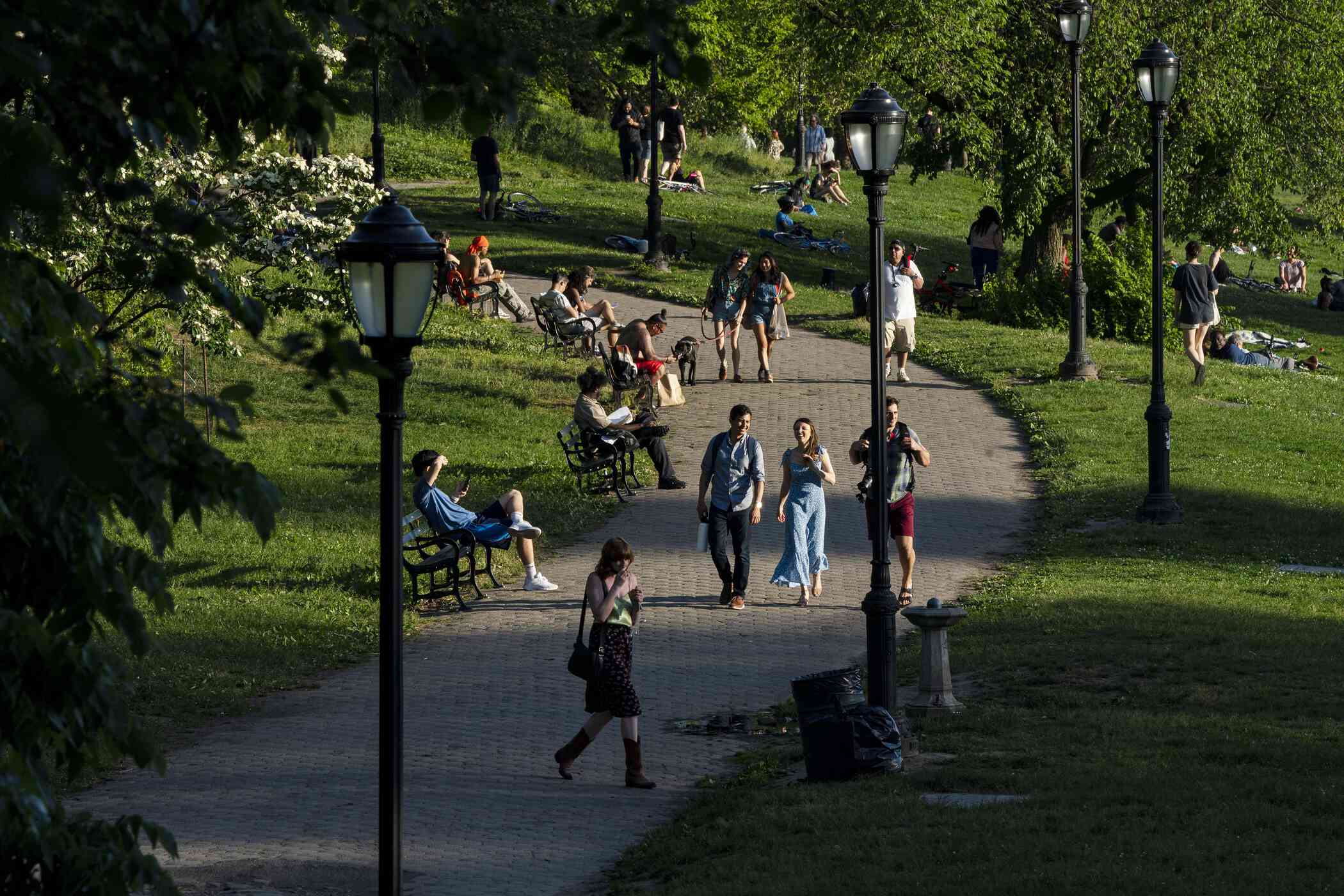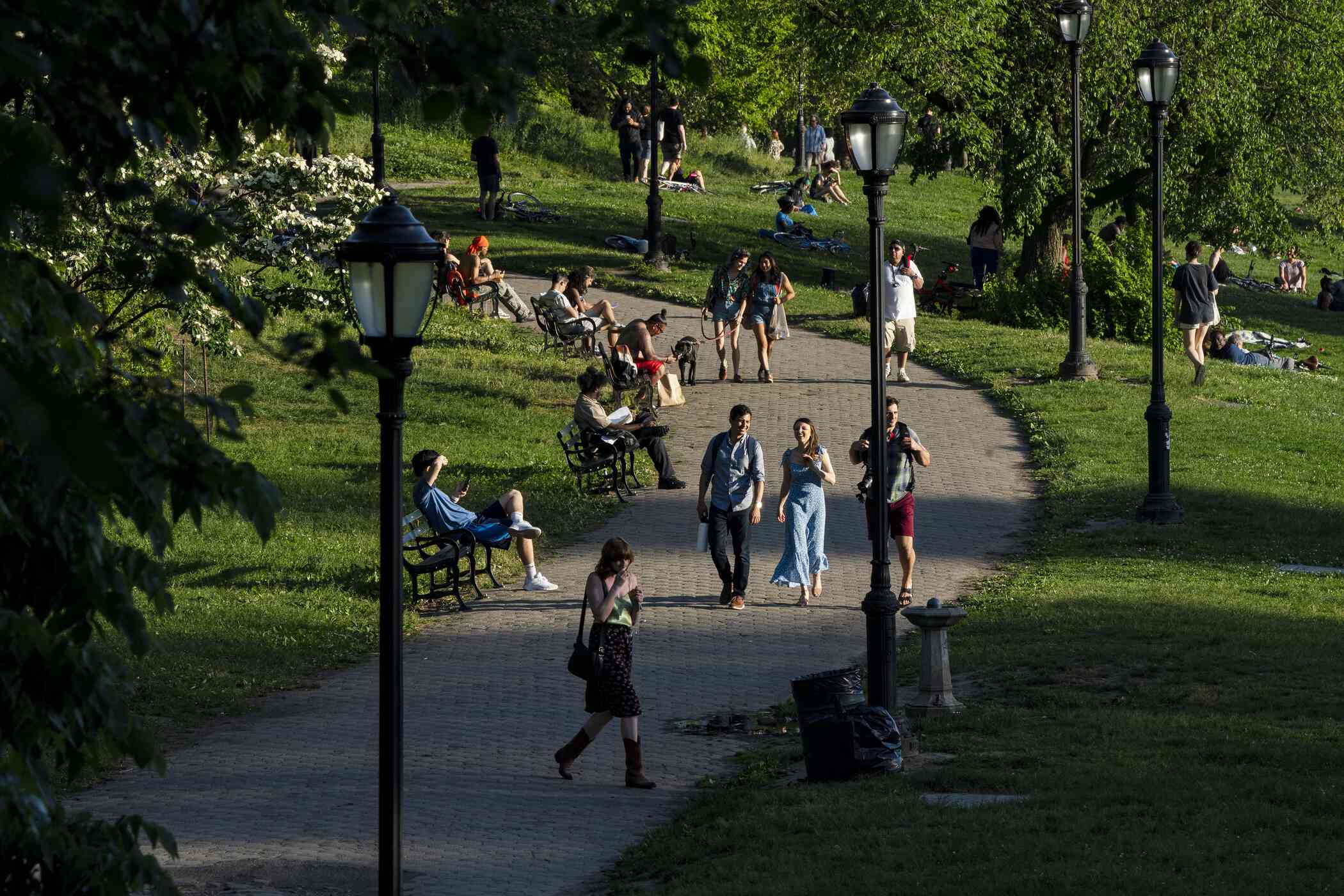 In an interactive photo essay for the New York Times, journalists Ruth Fremson and Audra D. S. Burch celebrate what would have been the 200th birthday of Frederick Law Olmsted, the renowned 19th-century landscape architect. By showcasing photos of people enjoying themselves in his creations—such as New York City's Central Park, the Emerald Necklace in Boston, and the U.S. Capitol grounds—Fremson and Burch recognize Olmsted's contributions to the civic life of communities across the United States.1 
"Olmsted understood the promise of the park as a social force that would become an amenity in city life over the decades," they write. "In his view, parks were imbued with an exquisite kind of healing power. They were beautiful, born of nature, reimagined by man."2 Over a century later, public parks and community green spaces continue to provide for those who visit them, especially during challenging times.
READ MORE: "Olmsted's Enduring Gift"
This May, a record heatwave stretched from the south up the east coast, bringing temperatures near 100 degrees Fahrenheit.3 Many cities have experienced temperatures up to 20 degrees higher than what is usually expected this season.4 "The abrupt beginning of hot temperatures early in the season after a relatively cool spring brings an increased risk of heat illnesses unless proper precautions are taken," the National Weather Service said in a statement.5 As temperatures continue to shatter records and become more extreme due to climate change, summers are increasingly becoming what can be considered "hot" or "extremely hot."6 Millions of people will feel the heat. 
A benefit of public parks is that they provide places for people to cool down, whether it be by a fountain, in a body of water, or under the shade of a tree. In fact, trees have been shown to lower the average air temperature when compared to areas with paved surfaces like roads and parking lots. "The sun just beams into all that pavement. And it doesn't just roast anyone who happens to walk across it, it's also transferring heat to the air, day and night," explains Joss Fong, a senior editorial producer for Vox. "If you take an area that's just parking lots and buildings and cover at least a quarter of the space with trees, you can lower air temperatures there by around eight degrees Fahrenheit."7 This makes it more bearable to be outside in the heat. 
In addition to helping people stay cool, public parks benefit them by improving both the physical and mental health of those who use them. Visitors can go for a run, read, or relax. They can bike and get a breath of fresh air. Trees improve air quality, absorbing "gaseous air pollution" and holding "small particles … like dust, ash, pollen, and smoke" on their leaves.8 Olmsted himself noted, "Where there were parks, they gave the highest assurance of safety, as well as a grateful sense of peculiarly fresh and pure air."9 As important as this was back then, it became vital during the COVID-19 pandemic, as many turned to parks for a break from quarantine and an area where they could physically space out without risking possible exposure to the virus indoors. 
Despite the green space benefits, not all communities have accessible green spaces for their residents. According to a 2020 report by the Hispanic Access Foundation and the Center for American Progress, communities of color are nearly three times more likely than their white counterparts to live in "nature deprived" areas.10 These disparities are the results of decades of discriminatory urban and environmental policies that shaped where people lived, what was built in their neighborhoods, and what resources they could access. 
This report complemented an NPR analysis from a year prior, which used census data and thermal satellite imagery to conclude that for many neighborhoods in major cities across the United States, "where it's hotter, it also tends to be poorer."11 The effects of extreme heat disproportionately affect lower income communities, many of which feature more pavement and less greenery. 
In the 1960s, Philadelphia began creating "pocket parks" on small parcels of vacant land in lower income neighborhoods to address this problem.12 They transformed barren or blighted areas into enjoyable gathering spots, with the input and support of those who lived there. Other parks have received renewed attention and funding for upgrades. In Washington, D.C., Meridian Hill-Malcolm X Park is undergoing a two-year renovation to restore its historic fountains, plant new greenery, and repair crumbling infrastructure.13 This follows the reopening of Franklin Park in downtown D.C., which was updated to include "an outdoor café with seating and restrooms, a children's play area, a repaired and interactive historic fountain, new seating, an improved tree canopy, and more."14 While these projects ultimately improve the physical area—and therefore, the experience of those who visit—they can often be deprioritized when budgets are tight or other issues are deemed more urgent. 
A park can serve as a great equalizer in a community—a place where all people can interact with each other regardless of age, race, socioeconomic status, or ability. It's a place meant to be utilized and enjoyed by all, not just a few. Green spaces add to the civic health of a community by serving as meeting spots where people can come together in recreation and celebration, where they hold vigils and stage protests, and where they enjoy the company of others and escape the world for a moment. Parks reconnect us to nature and offer a respite from a busy, hectic world. 
Just as Olmsted was commissioned by the federal government and numerous local and state governments to create and renovate parks and landscapes, the question now is: what more can and should be done to maintain the parks we currently have and to expand green spaces into communities where they are lacking? As we note the benefits of parks and green spaces, we can also consider the investments and upgrades that may be needed so more people, and future generations can enjoy them as well.
Discussion Questions
When was the last time you went to a local park? How did you spend your time there?

 

How frequently do you, your friends, or your family visit parks?

 

Does your community have public green spaces? How accessible are they to community members?

 

What do you think are the greatest advantages of public parks and green spaces?

 

How important do you think it is for the government (local/state/national) to invest in creating or maintaining public parks?

 
 As always, we encourage you to join the discussion with your comments or questions below.
Sources
[1] New York Times: https://www.nytimes.com/interactive/2022/04/22/us/frederick-law-olmsted-american-parks.html
[2] Ibid.
[3] Washington Post: https://www.washingtonpost.com/weather/2022/05/20/heat-wave-east-coast/
[4] New York Times: https://www.nytimes.com/live/2022/05/21/us/weather-east-coast-heat
[5] Ibid.
[6] New York Times: https://www.nytimes.com/live/2022/05/21/us/weather-east-coast-heat
[7] Vox: https://www.youtube.com/watch?v=ZQ6fSHr5TJg&vl=en
[8] Minnesota Pollution Control Agency: https://www.pca.state.mn.us/living-green/benefits-trees#:~:text=Improve%20air%20quality.,tree%2Dfilled%20areas%20are%20cooler.
[9] New York Times: https://www.nytimes.com/interactive/2022/04/22/us/frederick-law-olmsted-american-parks.html
[10] National Geographic: https://www.nationalgeographic.com/science/article/how-nature-deprived-neighborhoods-impact-health-people-of-color
[11] NPR: https://www.npr.org/2019/09/03/754044732/as-rising-heat-bakes-u-s-cities-the-poor-often-feel-it-most?t=1628079007286
[12] Alison Blake: https://depts.washington.edu/open2100/Resources/2_OpenSpaceTypes/Open_Space_Types/pocket_parks.pdf
[13] DCist: https://dcist.com/story/20/12/09/malcolm-x-park-dc-renovations-lower-level/
[14] DowntownDC: https://www.downtowndc.org/news/franklinparknews/