What's at Stake in the Senate Races?
October 17, 2018
---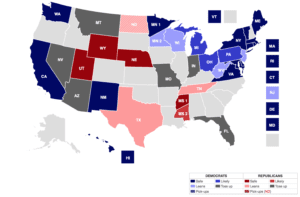 What's Up?
There are 35 Senate seats up for grabs in 2018 (including two—Minnesota and Mississippi—that are up for special election).
Of those 35 seats, 26 of them are currently held by Democrats.
The Current Situation 
Republicans currently hold the majority (51 seats) in the Senate; Democrats hold 47 seats and independents hold two seats.
To take over the Senate majority, Democrats must gain an additional two seats (and keep all currently held seats) in 2018.
It is not going to be easy for Democrats to gain the majority. According to John Dinan, a professor of politics and international affairs at Wake Forest University, the Senate election picture is "much more favorable for Republicans."
Democrats are defending 26 Senate seats that are up for election; Republicans are defending only nine.
Democrats are defending seats in 10 states that supported President Donald Trump over former Secretary of State Hillary Clinton in 2016 (Florida, Indiana, Michigan, Missouri, Montana, North Dakota, Ohio, Pennsylvania, West Virginia, and Wisconsin).
Republicans are defending a seat in only one state carried by Secretary Clinton in 2016 (Nevada).
Democrats are defending seats in 13 states that have a Republican governor (Florida, Indiana, Maine, Maryland, Massachusetts, Michigan, Missouri, New Mexico, North Dakota, Ohio, Vermont, West Virginia, and Wisconsin).
Republicans are not defending any Senate seats in states with a Democrat as governor.
Why Do We Care? 
The Senate considers the ratification of treaties (which requires a two-thirds vote) and presidential appointments for such positions as federal judgeships, ambassadorships, and Cabinet offices (all of which require a majority vote for approval).
The Constitution gives the Senate the "sole Power to try all Impeachments." In other words, the Senate, by a two-thirds vote, determines whether to convict and remove from office any impeached official.
Committee assignments are important for each senator's legislative agenda; party leaders organize and shape the composition of the committees.
The Senate majority leader holds scheduling responsibilities, and has the power to have the Senate consider a particular matter. After the Morning Hour (a daily period for routine morning business), the Senate normally resumes working on any prior business. However, this business can be set aside (temporarily or indefinitely) to focus on other business presented by the majority leader (in the form of motions or unanimous consent requests).
What Should We Keep an Eye On? 
According to Real Clear Politics, the toss-up Senate races in 2018 include:
Arizona [Open (R)]: Rep. Martha McSally (R) vs. Rep. Kyrsten Sinema (D)
Florida [D]: incumbent Sen. Bill Nelson (D) vs. Gov. Rick Scott (R)
Indiana [D]: incumbent Sen. Joe Donnelly (D) vs. former state Rep. Mike Braun (R)
Missouri [D]: incumbent Sen. Claire McCaskill (D) vs. state AG Josh Hawley (R)
Montana [D]: incumbent Sen. Jon Tester (D) vs. state auditor Matt Rosendale (R)
Nevada [R]: incumbent Sen. Dean Heller (R) vs. Rep. Jacky Rosen (D)
Other races to watch include:
Texas [R]: incumbent Sen. Ted Cruz (R) vs. Rep. Beto O'Rourke (D)
West Virginia [D]: incumbent Sen. Joe Manchin (D) vs. state AG Patrick Morrisey (R)
Mississippi [Special (R)]: incumbent Sen. Cindy Hyde-Smith (R) vs. state Sen. Chris McDaniel (R) and former Rep. Mike Espy (D)
Tennessee [Open (R)]: Rep. Marsha Blackburn (R) vs. former Gov. Phil Bredesen (D)
Resources for Further Exploration 
Let's Discuss
Given what we know about how the Senate functions, why is holding the majority important?
Moving into the future, what specific impacts could result if Republicans remain the majority?
What could be the impacts if Democrats move into the majority?
What specific issues or legislation may be particularly impacted by the majority being in the hands of Republicans or Democrats?