TikTok & The First Amendment
March 31, 2023 by Sante Mastriana
---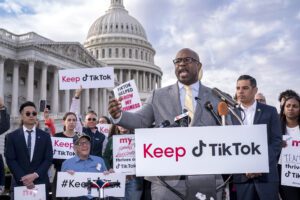 On March 23, 2023, the House Committee on Energy and Commerce held a hearing as part of an ongoing review of TikTok and its connections to the Chinese government. TikTok CEO Shou Chew was the focus of the hearing and took questions from members of Congress on a wide range of topics, including the ways TikTok gathers and secures user data and the access the ruling party of China, the Chinese Communist Party (CCP), has to that data.1
Currently, there is bipartisan support for enacting a ban on TikTok in the United States. The federal government and dozens of state governments have already enacted various policies banning the social media app in official spaces, on official computers, and/or in employees' personal capacity.2 However, the ban currently gathering support in Congress would make the app unusable by private citizens regardless of their government status, employment, or age. Such an outright ban on social media extended to individual citizens would be unprecedented in the United States and has generated significant controversy.3
READ MORE: For an in-depth look at whether or not Congress should ban TikTok, subscribers can access a new Close Up Current Issue on the topic!
Should TikTok be Banned?
Bipartisan support is not often found in today's Congress, particularly on far-reaching legislation. Despite Chew's insistence during his testimony that TikTok has never provided user data to the CCP and would not do so if asked, Democrats and Republicans in Congress remain highly concerned over the security threat they believe TikTok represents.4
At the heart of their concern is the close relationship that major Chinese corporations, including TikTok's parent company ByteDance, have to maintain with the CCP in order to thrive in China. They argue that despite the assurances of CEOs like Chew, the Chinese government ultimately has the power to access any information Chinese companies retain and can easily compel them to release that data.5
Lawmakers and law enforcement agencies have also cited TikTok as a potential source of pro-China and/or anti-U.S. manipulation, disinformation, and propaganda.6 In an effort to address some of these concerns and prevent a ban, TikTok has proposed Project Texas—a $1 billion plan to ensure that all U.S. data is stored outside of China.7 For many lawmakers, this proposal does not do enough to guarantee that data is protected and that the CCP cannot utilize that data to undermine U.S. interests and national security.
During the hearing, Representative Dan Crenshaw (R-Texas) addressed spectators directly by saying, "I want to say this to all the teenagers out there, and TikTok influencers who think we're just old and out of touch. … You may not care that your data is being accessed now, but you will be one day."8
Why Keep TikTok?
Currently, more than 150 million Americans are on TikTok, making it one of the most popular social media apps in the country, particularly among teenagers and young adults. The average TikTok user in the United States spends over 90 minutes on the app per day, opening the app no less than eight times during the day.9 In response to the proposed ban, some users have joined together to voice their opposition and the hearing itself became a focus of users' objections. Many users argued that the hearing only underscored how out of touch lawmakers are with the realities of technology and social media.
Recently, Representative Alexandria Ocasio-Cortez (D-N.Y.) took to TikTok for the first time to announce her opposition to the ban. "They say because of this egregious amount of data harvesting, we should ban this app," she said. "However, that doesn't really address the core of the issue."10 The core of the issue she alluded to is one cited by many of those opposed to the ban. Beyond the fact that TikTok is simply a popular app that users enjoy, some argue that the data-harvesting practices that lawmakers are concerned about are standard to nearly all social media and internet apps. Critics have agreed that data-harvesting and a lack of data privacy are major issues in the United States, but many say a ban on TikTok would do virtually nothing to substantively address those issues.11
For many, a potential TikTok ban also raises broad questions about First Amendment rights—particularly free speech and free expression. Opponents of a TikTok ban question whether the government has any business policing the private activities of private citizens regardless of motive. Some feel that those who have concerns about TikTok's data privacy practices have the option of not using the app and that the choice of whether to do so should be left to the individual. They argue that while the government may reserve the right to make its own data policies for its employees, it should not be allowed to do the same for private citizens. 12
Discussion Questions
Do you believe Congress should pass a law banning the use of TikTok in the United States?
Do you think the government's concerns about the potential dangers of TikTok have merit? Or do you agree with the critics who argue that the ban would do little to address those dangers? Why?
Some have suggested that this policy is intended not to protect private data or national security, but instead to enable lawmakers to appear "tough on China." Why do you think some have made that suggestion? Do you agree?
Although a ban on TikTok may or may not address legitimate security concerns, do you feel that more should be done to protect individual user data from corporations? Do you think maintaining data privacy is an important concern or do you feel that the nature of privacy has changed and lawmakers may be out of touch?
Related Posts
Fallout and Consequences Part 2: Free Speech and Censorship
As always, we encourage you to join the discussion with your comments or questions below.
Sources
[1]  https://www.cnn.com/2023/03/25/tech/tiktok-user-reaction-hearing/index.html
[2] https://www.theguardian.com/technology/2023/mar/27/us-tiktok-ban-aoc-joins-protest
[3] https://thehill.com/policy/technology/3920214-how-could-a-tiktok-ban-be-enforced/
[4] https://www.pbs.org/newshour/nation/analysis-can-the-u-s-government-ban-tiktok
[5] https://www.nytimes.com/article/tiktok-ban.html
[6] https://thehill.com/policy/technology/3920214-how-could-a-tiktok-ban-be-enforced/
[7] https://www.nbcnews.com/tech/security/tiktok-tries-sell-project-texas-fights-survival-us-rcna67697
[8] https://apnews.com/article/tiktok-ban-congress-hearing-bytedance-china-biden-ceo-a92f048762d6657f291affb7a0ce6386
[9] https://khoros.com/resources/social-media-demographics-guide
[10] https://thehill.com/homenews/house/3918156-aoc-posts-first-tiktok-in-support-of-the-app-says-ban-doesnt-feel-right/
[11] https://thehill.com/policy/technology/3920214-how-could-a-tiktok-ban-be-enforced/
[12] Ibid.