Religious Freedom or the Right to Discriminate?
August 22, 2019
---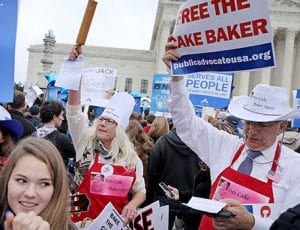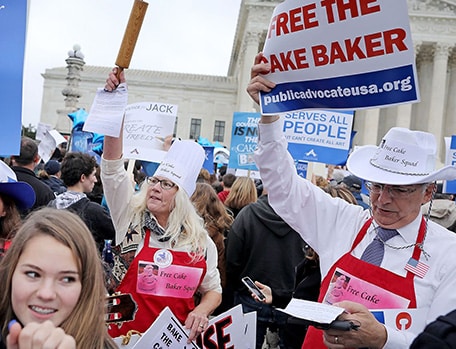 On August 15, the Department of Labor published proposed changes that would expand federal contractors' ability to claim a religious exemption to equal opportunity and anti-discrimination rules.1 The proposed rule change, as written, could allow employers with federal contracts to fire or refuse to hire LGBTQ employees, and could even be used to fire unmarried pregnant women if an employer claimed that it was against their religion to support having sex out of wedlock.
The Department of Labor cites recent Supreme Court cases, such as Burwell v. Hobby Lobby (2014)2 and Masterpiece Cakeshop v. Colorado Civil Rights Commission (2018).3 In each of those cases, the Court allowed businesses to claim that the U.S. right to religious freedom exempted them from certain state or federal regulations. (Masterpiece Cakeshop was decided on narrow grounds and the Court cautioned that it should not necessarily be read as precedent.)
Drawing on opinions expressed by the Supreme Court in those cases and in other cases, the Department of Labor's rule change would allow groups and companies with federal contracts that identify as religious to "make employment decisions consistent with their sincerely held religious tenets and beliefs without fear of sanction by the federal government."4
The proposed rule is stirring controversy, as many civil rights activists see the change as discriminatory. Patricia Shiu, who oversaw the federal contracting office under President Barack Obama, told Vox that the new rule has the potential to be interpreted very broadly. As Shiu explained to Vox: "The new rule would gut anti-discrimination protections in a 'major and transformational way.' While the rule seems to target LGBTQ individuals … it's so broad that it creates a loophole for employers to discriminate against anyone. … [Companies] could ask for a religious exemption so they don't have to hire women, by saying that their religion dictates that women cannot work outside the home."5
Louise Melling, deputy legal director of the American Civil Liberties Union (ACLU), warned that the rule "authorizes discrimination in the name of religion."6 The ACLU also tweeted, "Nearly one-quarter of employees in the United States work for an employer that has a contract with the federal government. This rule seeks to undermine our civil rights protections and encourages discrimination in the workplace—and we will work to stop it."7
Sarah Warbelow, legal director of the LGBTQ rights advocacy organization Human Rights Campaign, called the rule "a license to discriminate."8
An official with the Department of Labor defended the rule, explaining to ABC News: "The Department's regulations for a long time have allowed religious organizations to take applicants' and employees' religion into account when making employment decisions, that's not new. This proposal only seeks to clarify who qualifies as a religious organization and what religion means under the law. That's it."9
In addition, acting Secretary of Labor Patrick Pizzella told The Christian Post, "Today's proposed rule helps to ensure the civil rights of religious employers are protected. As people of faith with deeply held religious beliefs are making decisions on whether to participate in federal contracting, they deserve clear understanding of their obligations and protections under the law."10
Discussion Questions
Do you think that business owners and employers should have the right to refuse to hire someone on religious grounds? Why or why not?
Are there some types of organizations (such as religious charities) that should have the right to use religion in their hiring and firing practices? Should that same right extend to all employers?
How does this controversy connect to other issues you have heard about in the news? In history?
Do you think the Department of Labor should adopt this new rule? Why or why not?
How to Get Involved
This proposed rule change is open for public comment until September 16, 2019. Anyone can submit a comment, and these comments must be reviewed and considered by the executive branch before it makes the change official.
Read the full proposed rule and submit a comment here:
Implementing Legal Requirements Regarding the Equal Opportunity Clause's Religious Exemption
Consider having students work in small groups or individually to submit a comment supporting or challenging the proposed rule.
Other Resources
Sources
Featured Image Credit: Chip Somodevilla/Getty Images