A Rumble in the House—What Are the Odds of Republicans Maintaining the Majority?
November 5, 2018
---
What's Up?
The members of the House of Representatives represent citizens on the basis of population. Representatives (who are elected to two-year terms) have many duties, but their most important ones are to make and pass federal laws by introducing bills and resolutions, offering amendments, serving on committees, and voting to represent their constituents.
Tomorrow, November 6, is Election Day. All 435 seats in the House are up for grabs. The winners will be sworn in to serve in the 116th Congress in early January 2019.
Republicans currently hold the majority in the House with 235 seats. Speaker of the House Paul Ryan (R-Wis.) is not seeking reelection.
Democrats hold 193 seats in the House. Representative Nancy Pelosi (D-Calif.) is the current minority leader.
Seven seats are vacant (due to a member's death or resignation) going into the election.
To secure the House majority, a party must win 218 seats.
To take over the House majority, Democrats will need to gain 23 new seats.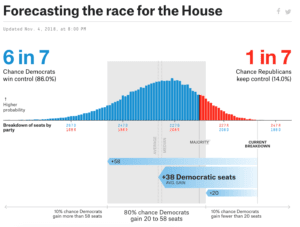 The Current Situation: 
Many polls are suggesting that Democrats will take over the House majority.
According to FiveThirtyEight's aggregated poll data, there is an 85.4 percent chance that the Democrats will win the House majority in the midterms.
Why Might That Be?  
Open seats are typically more likely to flip. Incumbents are traditionally difficult to beat, so losing incumbents makes seats vulnerable for that party.
There are 55 House members who are not seeking reelection in 2018, leaving their seats open for the taking.
Republicans held 37 of those newly opened seats; eight of those seats are in districts that voted for former Secretary of State Hillary Clinton in 2016.
Eighteen of those members not running for reelection are Democrats, but only four of them are in districts won by President Donald Trump in 2016.
An additional nine members of the House will leave their seats open due to early resignation. Seven of those members are Republicans, only two are Democrats.
History is not on Republicans' side. According to The American Presidency Project, since 1934, the party of a newly elected president has suffered an average loss of 23 seats in the House in the following midterm election. This is the exact number of seats Democrats need to flip to become the majority.
Republicans are defending 25 seats in districts captured by Secretary Clinton in 2016. Democrats are defending 13 seats in districts that went for President Trump.
Democrats are leading in the polls for a generic ballot.
Why Do We Care? 
The speaker of the House is an important role in the U.S. political system. The speaker, who is elected by the House (and, thus, typically a member of the majority), acts as the leader of the House and presides over the floor. The speaker is second in line to succeed the president, after the vice president.
Committee assignments are important for each member's legislative agenda; party leaders organize and shape the composition of the committees. The House has 20 standing committees that have different jurisdictions. These committees consider bills and then recommend measures for the House to consider.
Before members are assigned to committees, each committee's size and proportion of Republicans to Democrats must be decided. The number of committee slots given to each party is about the same as the ratio between the majority party and the minority party in the full chamber.
Each committee has a chair (a member of the majority party). The chair heads the full committee and has considerable power over what pieces of legislation or issues the committee considers.
The Rules Committee controls which bills go to the House floor and the terms of debate. The makeup of the Rules Committee has traditionally been weighted in favor of the majority party and has been in its current configuration of nine majority members and four minority members since the late 1970s.
What Are the Polls Saying About the Various Races? (Source: The Cook Political Report)
Definitions to know: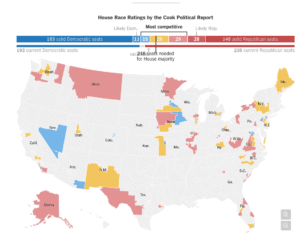 Likely: This race is not considered competitive at this point but it has the potential to become engaged.
Leaning: This is a competitive race, but one party has an advantage.
Highly competitive: This race is a toss-up or is leaning slightly toward one party.
Toss-Up: This is one of the most competitive races; either party has a good chance of winning.
What are the polls showing?
Polls are showing more seats solidly held by Democrats.
There are 183 seats anticipated to be solidly Democrat; 140 seats are polling as solidly Republican.
There are 11 additional seats polling as likely Democrat; 28 additional seats are likely Republican.
There are 29 races leaning Republican; only one of these seats is currently held by a Democrat.
There are 15 races leaning Democrat; 13 of these seats are currently Republican.
There are 73 races polling as highly competitive; 69 of these seats are currently held by Republicans.
There are 29 races polling as toss-ups; 28 of these seats are currently held by Republicans.
What are these polls telling us?
Republicans seem to have an uphill battle to fight on November 6. There are 69 Republican seats that are considered a toss-up or leaning. So to maintain control of the House, Republicans must win 90 percent or more of their highly competitive races.
Specific Races to Watch on Tuesday: 
According to a New York Times analysis of The Cook Political Report, the toss-up races are:
| | |
| --- | --- |
| State-District | Republican currently holding the seat*Open means the current representative will not run for reelection. |
| CA-10 | Denham |
| CA-25 | Knight |
| CA-39 | Open (Royce) |
| CA-45 | Walters |
| CA-48 | Rohrabacher |
| FL-15 | Open (Ross) |
| FL-26 | Curbelo |
| IL-14 | Hultgren |
| IA-03 | Young |
| KS-02 | Open (Jenkins) |
| KY-06 | Barr |
| ME-02 | Poliquin |
| MI-08 | Bishop |
| MN-01 | Open (Walz) |
| NJ-03 | MacArthur |
| NJ-07 | Lance |
| NM-02 | Open (Pearce) |
| NY-19 | Faso |
| NY-22 | Tenney |
| NC-09 | Open (Pittenger) |
| NC-13 | Budd |
| OH-12 | Balderson |
| PA-01 | Fitzpatrick |
| TX-07 | Culberson |
| TX-32 | Sessions |
| UT-04 | Love |
| VA-02 | Taylor |
| VA-07 | Brat |
| WA-08 | Open (Reichert) |
Resources for Further Exploration:
Let's Discuss
Given what we know about how the House functions, why is one party holding the majority important?
Moving into the future, what specific impact may result if Republicans remain in the majority?
What about the impact if Democrats move into the majority position?
What specific issues or areas of legislation may be particularly impacted by the majority being in the hands of Republicans or Democrats?