Jeff Spoeri | Student 1983 | Program Instructor 1987
September 24, 2018
---

As a teacher, lawyer, blogger, fundraiser, and Jeopardy! winner, Jeff Spoeri has just about done it all. His connection to Close Up began in 1983 as a high school junior visiting Washington, DC from Plantation High School in Plantation, FL, near Fort Lauderdale. After high school, he attended the College of William and Mary, in Williamsburg, VA, earning a B.A. in Government. During the summers he worked in DC as a Tourmobile guide, showing the nation's capital to visitors on the blue trams that were ubiquitous around the city in the 1980's.
He returned to Close Up after college, working as a Program Instructor (PI) for two years. In only his second week as a PI, he experienced the legendary Veterans Day Blizzard of 1987. During his time with Close Up, the sites and faces of Capitol Hill became familiar to him, especially those connected to Florida. One of his favorite locations, Florida House, is still considered the "embassy" of the Sunshine State in Washington. He has vivid memories of leading student groups to meet Senator Paula Hawkins, who remains the only female to have represented Florida in the upper chamber.
Mr. Spoeri decided that working with students had become more interesting to him than the members of Congress. The new perspective he developed as an instructor prompted him to pursue teaching as a profession. He earned a M.Ed. degree from Vanderbilt University in Nashville, TN, and subsequently taught social studies at the high school and junior college level.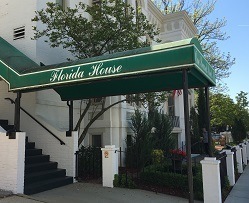 Later, Mr. Spoeri earned a J.D. from Washington University School of Law, in St. Louis, MO, clerked for a state appellate court judge, and practiced law for several years. Finding himself drawn back to the world of education, however, he set out on his "third and final career" as a development officer in higher education. He has worked on building strong community partnerships at several universities and non-profit institutions. Landing in a field that includes alumni relations and fundraising, Mr. Spoeri has found a vocation that suits his talents and enduring passion for education.
Maintaining a commitment to civic engagement throughout his career, Mr. Spoeri was formerly a political blogger, which afforded him the opportunity to attend a national political party convention alongside members of the press. He has also participated in leadership training programs in various communities he has called home over the years, including Leadership Brevard and Leadership Winter Park, both in Florida. Such programs are often sponsored by local business networks, and teach aspiring community leaders the skills needed to serve diverse constituencies effectively.
Mr. Spoeri currently serves as the Associate Vice President for University Advancement at Lamar University, in Beaumont, TX. He kindly made time to speak with us by phone.
CU: How was your experience with Close Up as a student?
JS: Government and history were two of my favorite subjects in school, so Close Up naturally appealed to my interests. When my group came to DC from Fort Lauderdale in February 1983, I was excited to meet new people and enjoyed spending the week with roommates from Shreveport, LA. We learned a lot from one another, and I still keep mementoes from that week. The multi-partisan emphasis on understanding different sides of an issue gave me a leg up in my future studies.
CU: How did you find your way back to Close Up to work as a Program Instructor (PI)?
JS: My family moved from Florida to the DC area around the time I started college. Living there afforded me the chance to work as a tour guide during the summers, but I was ready for a professional opportunity more aligned with my academic focus upon graduation. Close Up had a booth at the Non-Profit Career Day at William and Mary, so I applied, interviewed for a PI position, and waited on pins and needles until Labor Day to get the news that I'd been hired.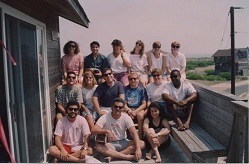 CU: Do you have memories that stand out from your PI experience?
JS: Training began in October and we began working with school groups by the beginning of November. A blizzard hit the DC area in my second week of work. We watched the snowfall begin from the cafeteria of the Rayburn House Office Building. The students in my workshop from South Florida and Puerto Rico were unaccustomed to snow, much less 11 inches in one day. Driving home at the end of the day, I found myself sliding off the road. The weather conditions forced me to return to the hotel, where all of us instructors hunkered down in the suite reserved for staff operations.
Some of the highlights of my experience were witnessing the inauguration of President George H.W. Bush in 1989, bonding with my fellow instructors during a week at the beach in Nag's Head, NC, after each program season, and occasionally enjoying bus karaoke with the students. One of the most rewarding elements of working with students was showing them William and Mary, my alma mater, on travel days to Williamsburg.
CU: What effects did your experience as PI have on you career path?
JS: Foremost among the skills I learned as a Program Instructor were flexibility and patience. We always had to be ready for adjustments to the schedule and responsive to the needs of students, parents, teachers, and sometimes elected officials. My experience also kindled a passion for education. Up to that point I had planned to make a career in politics, but teaching became more appealing as a career path as I gradually adopted an educator's perspective.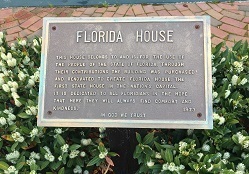 CU: What does the concept of citizenship mean to you?
JS: The benefits of citizenship come along with the responsibility to engage as informed participants. Much of the problems in the current political environment stem from the paucity of informed participation, because of both low-information voting and persistently low voter turnout. In my first government course at William and Mary, the professor challenged us to consider whether voting was a rational choice for an individual citizen, given the cost in time and energy weighed against the personal benefit. My decision that voting is worth the effort drives me to vote in every election.
In the election held six months after my move to Texas, I faced the challenge of quickly becoming an informed voter in a new community. Even though no candidates for office were on the ballot, I felt it was important to participate. There were several constitutional amendments and local initiatives to consider, and the mindset of Close Up influenced me to research the issues before casting my vote.
CU: What advice do you have for young people considering their plans for the future?
JS: One piece of advice I have for young people, regardless of their career path, is not to take "no" personally. People may not agree with your ideas or respond affirmatively to your request in the moment, but their answer may have nothing to do with you and they might be more amenable to your position at another time. Perseverance is critical in any endeavor.
Students should make themselves marketable with a diverse array of skills and experiences. Close Up adds value to a college application because it shows initiative on the part of students to become more informed and engaged citizens.
CU: What is the importance of involvement in the alumni community?
JS: Former participants have directly seen the benefit of Close Up. Those who believe in its mission have a valuable role to play in making the program accessible for others. Involvement is important for alumni themselves, and also to build a strong Close Up organization. Professional networking is one tangible benefit. The camaraderie based on common experiences is another vital element. Even now, 30 years after my PI days, I cherish the relationships I've maintained.
CU: What are your proudest accomplishments?
JS: In the professional realm, university fundraising has given me the chance to produce concrete benefits for students. Securing a $6 million pledge from the Eli Broad Foundation to create a partnership between the Michigan State University College of Education and Detroit Public Schools is an accomplishment of which I'm especially proud. Mr. Broad, an alumnus of both Michigan State and Detroit Central High School, began funding a program in 2003 to meet Detroit's critical need to recruit and retain teachers. The Broad Partnership has trained hundreds of Detroit public school graduates as teachers. After graduation, these new teachers become eligible for student loan forgiveness once they complete three years of teaching in the Detroit school system. This program generated an effective teacher pipeline by taking advantage of the excellent elementary and secondary teacher education programs at Michigan State.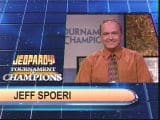 One personal highlight for me was my time on Jeopardy!, where I was a five-time champion in 2006 and a semi-finalist in the Tournament of Champions the following year. Friends and family members often told me that I should be on the show, so I guess they were right! I made great memories and a lot of friends among my fellow contestants.
My top priority is always being a good father to my two children. You want to give your kids the best opportunities you can, and seeing their success is the accomplishment that makes me the most proud. We're fortunate that technology allows us to communicate more easily these days, as they still live in Florida. My son in particular has taken a great interest in government and is considering the kinds of public service opportunities that might take him to DC. Maybe I should steer him towards a PI position with Close Up!